EMR Dictation Delivery
Transcription provides healthcare clinicians with a quick and efficient method to properly document detailed information pertaining to patient encounters, while providing billing personnel the necessary documentation to properly bill for the clinician's services.
The Transcription Center, Inc. has partnered with EMDAT to provide quality transcription services to physicians looking for an interface within their Electronic Medical Record (EMR).
Some EMR Systems claim to eliminate or greatly reduce transcription costs by having clinicians "template" their encounter online through a series of point and clicks. The one major problem with this way of documenting is that the clinicians are now spending more time documenting the patient encounter, and less time seeing patients.
The solution is the use of EMDAT with an upload interface within your EMR. This is done at no additional cost from EMDAT and The Transcription Center, Inc.
Flexibility
The Transcription Center, Inc. can provide transcription services at a competitive price, whether you're a large hospital, small clinic, or individual doctor.
With over 18 years in the business, we have transcriptionists who specialize in most medical fields.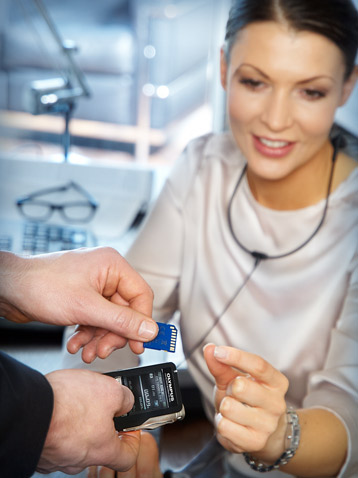 Online Accessibility for Staff
The use of EMDAT provides 24/7/365 access to all transcriptions for as long as the medical facility uses the EMDAT system. Imagine having all transcriptions (2 years, 4 years, 8 years, etc.) online; instantaneously available to any authorized user within your organization.
Security is built in, and can be broken down based upon clinician, location and work type, ensuring that HIPAA and HITECH compliance is maintained. Physicians using EMDAT sign electronically, which automatically routes the final report to your Medical Records department or uploads to your EMR. Staff members are a click away from pulling up any transcription.
If you have an EMR system in place, EMDAT will, at no cost, populate all transcriptions into your clinical repository, maintaining your patient history. If an EMR system is in your near future, then EMDAT will maintain and store all of the history needed to populate your future EMR when it becomes a reality. Imagine implementing an EMR and having two or three years of patient history already loaded, at no additional cost.
Our Clients
The Transcription Center, Inc. services many small and large doctors offices, as well as hospitals. Convenient and Flexible: The Transcription Center, Inc. believes in services custom made to your needs. Our flexibility enables you to focus your attention on your patients.
Serving:
Family Practice
Internal Medicine
Cardiology
Ear, Nose, and Throat
Infectious Disease
Pulmonary Medicine
Podiatry
Radiology
Pain Management
Neurology
Allergy and Immunology
Hepatology
Radiology
Hematology
General Surgery